Welcome to
Samus's Page
I was born April 2007, making me almost exactly 5 years younger than my sister Katie. My aunt Sherry and her kids took care of me until Mom and Dad picked me up and brought me home. I had fun on my first car ride, walking around on the dashboard and laying in Mom's lap while Dad drove us all the way back home.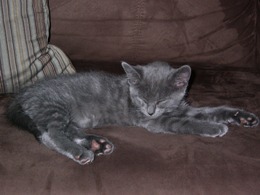 Before they got me, Mom and Dad decided to name me Samus after one of Dad's favorite video game heroes, Samus Aran. Dad says she saves the galaxy from mean old alien pirates who abuse these things called metroids and make them hurt people. When we got home I got to meet what was to me the scariest thing ever. It was my sister Katie. I didn't like her at all, and was afraid she was going to gobble me up in one bite! I hissed at her, and pressed up against my Dad to get away from her. Mom wanted us to meet each other, so Dad sat me down and I just clawed at everything that got near me! I don't think I got Katie any, but Dad took some blows. After a few days I realized that big sister wasn't as mean as she looked and that she only wanted to be my friend. I let her get closer and closer to me, until we got to know each other, and now we play together all the time. She's the greatest, and I don't like being separated from her at all. Katie and I play outside all day long.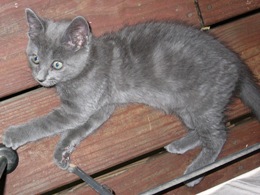 I love to prowl around on our big porch and attack things! Anything, chairs, pots, rails, Mom, Dad, Katie, I attack them all. At night time I also like to attack all the bugs that try to get into the house. Sometimes I leave the really cool ones on the door mat for Mom and Dad. I think they like them a whole lot! The other bugs, I usually just eat. My favorite thing of all to attack, though, is Katie, especially her tail. I lay in wait in the grass and when Katie starts rolling around on her back, I strike! I pounce on her tail and hang onto it with my front paws. It's lots of fun. I also attack Katie by walking on the railings to get up to her level, and then I bat at her with my paw as she walks by. Also, lots of fun. When I get really stirred up, I run up to Katie and I jump up and bounce off of her side with my feet, and keep running. Sometimes Katie doesn't want to play, and just wants to lay down. When she does that I usually just attack her head until she wants me to stop. I like to climb on her, and nip at her big floppy ears.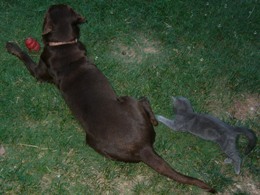 Life isn't all playing though. There are times when I just want to lay around and get loved on. That's when I climb up on Mom or Dad's lap, and just let them pet on me. They like my soft fur, and when they pet on me it really gets my purr box running. Dad says I sound like a little engine. Mom and Dad take good care of me. When I was five months old, I got a bad infection in my back, and the vet had to drain it. Ryan and people-Katie came over while Mom and Dad were in Florida and took care of me and my sister Katie. They gave me my medicine and kept my wounds clean. It was a big ordeal, but I made it through and I'm all healthy again. I'm back to playing outside, greeting Mom and Dad when they get home from work, and climbing trees. By the way, don't believe them if Mom and Dad say they had to rescue me a bunch of times from trees when I was little. I uh... wanted to stay up there, I didn't need to get down and get food. Okay, maybe they did rescue me a couple of times. How was I supposed to know those things were harder to climb down, than they were to get up?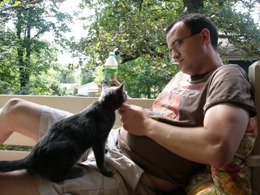 Please check out my album.